Lucky Bail Bonds in Bellingham, WA
Proudly Serving Whatcom & Island Counties
Acme, Bellingham, Everson, Ferndale, Lynden, Sumas and on Whidbey Island: Coupville, Greenbank, Langley, Oak Harbor
Lucky Bail Bonds, based in Bellingham, Washington, is your complete source for bail bonds when you or a loved one needs to get out of jail. Contact us today to speak with a bail bondsman to ensure you get through a complicated situation in a fast and easy manner. We are open 24/7.
Welcome to Lucky Bail Bonds
Lucky Bail Bonds is your one stop lucky solution when you or a loved one needs to get out of jail quickly. If your loved one has been detained and a bond set in their case in Bellingham, WA, Oak Harbor, WA, Mount Vernon, WA, or the nearby areas, you can turn to us for the help you need. We provide bail bonds 24 hours a day and 7 days a week for your convenience. No matter what type of charges are being brought against you or your loved one, you can rely on our bail bonds company for assistance.
Fast Bail Bond Services
For fast bail bond services, there is nowhere else you need to go other than Lucky Bail Bonds. Our bail agents know how to move quickly to expedite the bail bonds process. They will submit all of the required paperwork in only a few minutes and get the bond over to the jail where your loved one is being held. With our prompt and fast bail bond services, you never have to wait long for the bail bonds you need.
We Are Here For You
As your bondsman, we will go above and beyond to make sure that your family member or friend doesn't get detained for too long. We know how important it is to have them home and so we are careful about working quickly so you can have the bail you need right away. In addition, we are open at all hours of the day and night to answer any questions you may have.
Contact Lucky Bail Bonds
Contact us for more information about our services by calling us at 360-734-3503 today. We look forward to helping you through this challenging time.
Fast & Reliable Bail Bond Services
Our trustworthy bail agents work very hard for our clients. We understand that time is an issue when you or a loved one needs to be freed from jail, and we pride ourselves on our quick services. Bail bond paperwork typically takes about 5 to 10 minutes and then we post the bond.
Round the Clock Services
We answer our phones at all hours so you can rest assured you can reach our company any time of the day or night. A representative is always available should you or a loved one get sent to jail.
Flexible Payment Plans
Lucky Bail Bonds offers signature, no collateral bonds and we have flexible payment plans available for everyone. We also offer principle financing so that you can make payments on remaining balances.
Contact us today in Bellingham, Washington, when you or a loved one needs our bail bond services. A representative is waiting to answer your call any hour of the day or night.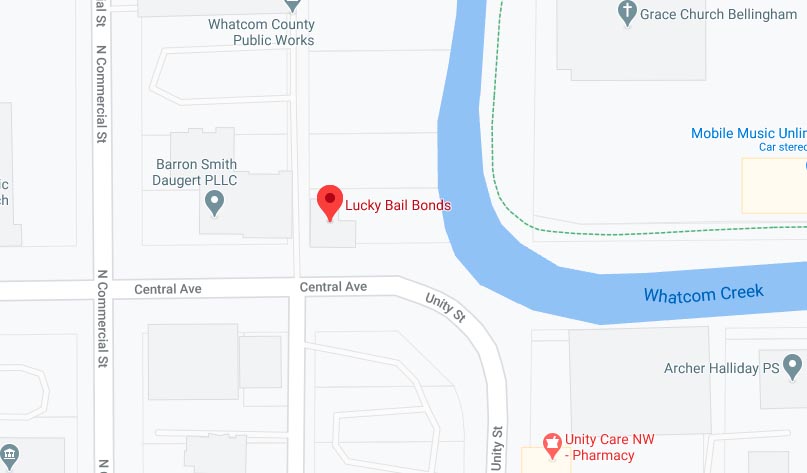 Hours of Operation
24 Hours / 7 Days a Week